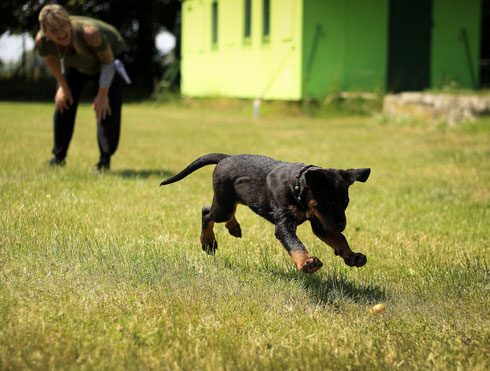 At The Northern Border K9 Academy, we strive to help our human and dog friends alike to achieve their goals. Goals are different for each individual, and some issues don't pop up until later in your dogs life. We, at the Northern Border K9 Academy believe it is never too late to help your aging canine companion! The saying "you can't teach an old dog new tricks" we have found not to be accurate and we have had continued success retraining not only the dogs, but the owners as well. The head trainers at our facility actively train and compete nationally and internationally with their German Shepherds and Dobermans, and besides that, they help their club members and clients with a variety of different breeds. Some of our clients have come with older dogs that either other trainers have given up on, or the owners didn't believe their ways could be changed. We believe that while training an older dog, it's extremely important to break down the issues into it's smaller more complex pieces and determine where the underlying issue stems from. For the most part, the issues that we see are behavioral, and easily corrected through balanced training. However, it is not uncommon that we have also seen cases that the underlying issue stems from genetics or health issues. Once we determine the underlying cause of the problem (behavioral, genetics, or health) then we as a team will come up with a customized training plan that best suits you and your beloved pets needs.

We have different training options available. Some people like us to come to them and work one on one on the problems in the comfort of their own home. Others, like to do private one on one training at our 30 acre facility including both indoor and outdoor training options weather dependent. We also offer group classes to those individuals wanting to socialize and or work on dog/human reactivity so long as it is safe for the other participants in the class (click here to read our blog about the importance of group class training).

Regarding our group training classes, we offer 3 different classes based on your dogs experience level. We have a puppy class that we offer on Tuesday evenings from 5-6pm. The puppy class is for dogs under the age of 8 months old without much prior training. We also use this class to socialize your puppy with other puppies and strange people. We teach the fundamentals of engagement work, sit, down, heel, and recall all through motivation with food rewards. More specifically for the elderly dogs needing additional training for problem behaviors, we have an intermediate and electric collar class. The intermediate class is on Tuesday evenings from 6:15-7:15pm. In the intermediate class, we focus on continuing your dogs obedience foundation through balanced training meaning that we prefer to teach with positive reinforcement but also know the importance of negative reinforcement and will apply this where deemed necessary. Lastly we have e-collar classes on Wednesdays from 5-6PM. E-collar classes give off leash reliability and therefore, are an additional security for your dogs safety as well!
In the last class we have worked a lot with elderly dogs that are going blind and/or deaf. And we have thought them to do certain things by use of vibrations! Once again, the ultimate proof that no dog is too old for training!