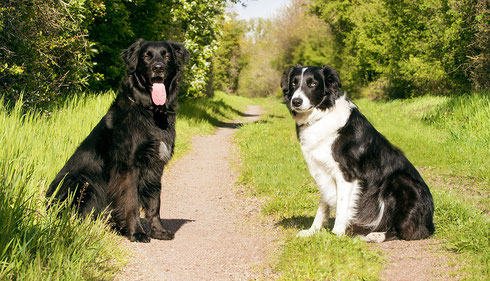 All dogs need some level of training. At The Northern Border K9 Academy we understand that private training isn't for everyone. That's why we offer several options for group training classes in Pittsburgh and their near by areas  to assure the right fit for you and your dog.
Our group dog training classes are a convenient and economical way to train your dog on a regular basis. If budget is a concern, group training classes are generally less expensive per session than private instruction. We strive to keep our class sizes small enough to ensure that you and your dog still get a personal experience with our professional trainers.
Training in a group setting has a lot of advantages over private training. Being in a class setting allows you to train in a realistic environment with distractions. New people, other dogs, different sounds and smells are all things you and your pooch will encounter as you venture out into public places. A group class will allow you to have these experiences in a safe, controlled environment under professional supervision. Having a well mannered dog in public is rewarding for both you and your dog.
You will become a more confident handler and be more likely to include your furry friend on regular outings.
Our classes are a fun and friendly environment. You will get the pleasure of meeting new people, making new friends and sharing experiences with each other. Having a good support system can make training more fun and motivating for everyone. The dynamics of a group training environment can also be exciting! Many students find they benefit from each other as a source of positive encouragement and sometimes even a bit of good natured competition.
Even if your dog is already a seasoned veteran, jumping into a new group class can spice things up a little!
Working together on new things or even reviewing old behaviors can be fun and stimulating for your dog.
You'll both look forward to your time out together socializing with other dogs and their owners.
One of our main goals at The Northern Border K9 Academy is to give you a solid foundation in basic obedience and give you the tools to continue training at home. Having this solid foundation can open up the door for advanced training opportunities. Many students find training so fun and rewarding that they can't wait to move on! Canine Good Citizenship, Agility, Rally and several other dog sports are just a few possibilities. Group classes are the perfect way to start.
We will be here every step of the way to help you meet your goals. We want you to be comfortable and confident in your handling skills!
Most of all, we want to help you build a strong, trusting relationship with your four legged family member. Group training classes help to create an incredible bond between the handler and the dog.
Having a dog that is easy to manage, happy and relaxed means that you and your family will get more enjoyment from pet ownership and your dog will become a true member of the family.